Condominium Associations in South Florida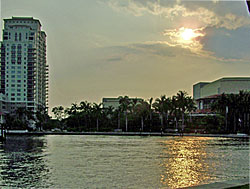 WHETHER YOU ARE A FULL-time or part-time owner, a condominium association can be an extremely valuable asset. Community association homes differ from traditional homes because everyone shares ownership of common land and has access to facilities. Associations oversee building maintenance, enforce rules and guidelines, and play a key role in legislation through paid lobbyists, and other policy-setting bodies on issues such as taxes, insurance, bankruptcy, reform and fair housing. By upholding these standards, condominium associations ensure that the community is well-maintained and property values remain profitable.
Associations can run small or large depending on community involvement. The South Gulf Coast Chapter of Community Associations Institute (CAI), a national organization dedicated to educating community associations, covers Port Charlotte south to Marco Island, Florida. The South Gulf Coast Chapter has 400+ members and handles issues pertaining to the association daily. "The insurance situation in the State of Florida is a major concern for any association and one we monitor on behalf of our members," said Robert Podvin, South Gulf Coast Chapter Executive Director.
Tom Skiba, Chief executive officer of CAI agrees, describing the series of hurricanes Florida recently experienced as "the perfect storm for insurance challenges and issues."
Florida has more than 18 million residents and 80 percent of them live or conduct business along or near the coastline, making the countdown to November 30, the end of hurricane season, a truly worrisome time with good reason (www.MyFlorida.com). The state represents 41percent of total flood insurance policies nationwide proving Floridians take storm preparation seriously.
While insurance is foremost in everyone-s mind throughout the state, CAI also works diligently to educate its many chapters, members and non-members. "An informed consumer is a successful consumer," states Skiba, referring to those who are in the market for a residence within an associated community. "Understand the rules. Not every community is right for everybody." He suggests that interested consumers make it a point to do their homework. "Start by looking at the real estate market in the area and research it carefully and read the documents. It could be as simple as talking to your neighbors, real estate agents or insurance agents," to find out if the community is right for you.
"Community living isn-t the easiest for some people. It-s hard for some to assimilate to the rules, which is where we come in. We try to solve problems before they become legal issues," says Podvin. Most conflicts are easily resolved and, according to a study performed by Zogby International in 2005, a national study revealed that 71 percent of owners rated their community association experience as positive, and 88 percent who had direct interaction with their community managers had positive experiences as well. In 1970, there were approximately 10,000 communities, and by 2006, a whopping 286,000 (www.CAIOnline.org).
Condominium associations perform many tasks on behalf of the owners they represent and having a guardian is integral to the success of everyone. From day-to-day living to broader issues such as insurance, associations work to make your home a better, more pleasant place to live.
Would you like this content on your website or do you have any questions about this article? If so, contact publisher@mediaservices1.com.