Ocean Estates Penthouse : Cape Canaveral, Florida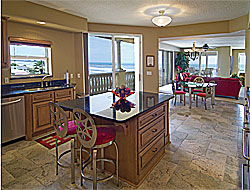 SHUTTLE LAUNCHES ARE ONE OF THE WONDERS OF LIVING ALONG THE SPACE Coast, but there is a penthouse that is nearly as spectacular as the views it commands.
Built in 2005, the Ocean Estates penthouse takes up the entire top floor and has the distinction of being the most expensive condo ever sold in Cocoa Beach when it was purchased pre-construction.
Large windows and sliding doors offer incredible views of the Florida coastline, including not only shuttle launches but cruise ships coming and going to the islands and dramatic sunsets over the Banana River.
Everything you expect from a multi-million-dollar residence is in place, from the marble-encrusted rotunda that speaks of Old World elegance to the space-age wiring and equipment that make this a "Smart" house. It goes without saying that appliances are top-of-the-line, counter tops are granite and the wood cabinetry is reminiscent of fine furniture.
Even the simple act of bathing becomes a luxurious spa-like experience when water flows from the ceiling into an infinity edge soaking tub. In the shower, an array of jets massage your body and endless ocean views soothe your mind.
The ocean-front master suite features a sitting area, morning kitchen, room-sized closet and extras such as a 42-inch flat screen TV, a fireplace and a balcony to enjoy the view. A second master suite serves as guest quarters. Beyond that is a library and a children-s wing.
More than 4,600 square feet, this penthouse also includes a professional-grade exercise facility, a gathering room, a butler-s pantry and hard-wired surround sound.
For information about Ocean Estates Penthouse : Cape Canaveral, Florida and the surrounding area contact Jan Petersen of Luxury Real Estate Florida,
Merritt Island, FL
Visit my site: http://www.luxuryrealestatefl.com/
Email Me: jan@lrefl.com