Mystic Vistas: Cape Canaveral, FL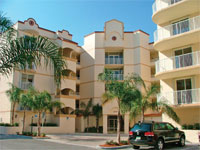 FLORIDA-S SPACE COAST IS ONE of the most desirable vacation areas in the state, featuring fabulous beaches, a world of activities and a tropical climate. It is also one of the best places to live year-round. As Dr. Ted Carrick, a new homeowner at Mystic Vistas says, "The area is phenomenal."
The same can be said of Mystic Vistas. This is the last major oceanfront project in Cape Canaveral, and, as such, is in extremely high demand. With spectacular views of the ocean, space launches and cruise ships, there-s always something new to enjoy.
A private gated community built in the Mediterranean design, Mystic Vistas offers six different luxurious three-bedroom, two-bathroom floor plans. These condos have the little extras that make a big difference: high ceilings to create a feeling of spaciousness and the added detail of crown molding in the living and dining areas.
The master bedroom suite is especially nice, with his and hers air-conditioned walk-in closets, oversized tub and shower, custom wood cabinetry and ceramic tile. In some units, the master bedroom is separated from the other bedrooms, providing extra privacy.
Kitchens have been designed to be both stylish and efficient, with extra touches such as granite counter tops. A full appliance package, including smooth cooktops and self-cleaning ovens, is a standard feature. In addition, all units have high-efficiency air conditioning and heating systems, and they are pre-wired for ceiling fans. There are also cable and telephone outlets in all major living areas.
Other important amenities include a secured access lobby with a telephone door-answering system, a master fire alert system and automatic sprinkler systems. Storm shutters are added for extra safety. And all windows facing the ocean have a special tint to prevent interior lights from shining on the beach, ensuring that newly hatched sea turtles head to the sea once they emerge from their nests.
Add a few heated pools, tennis and racquetball courts, private beach access plus nearby activities such as world class fishing, and you-ll see that Mystic Vistas is truly a gem. In spite of all the extras, however, Mystic Vistas offers some of the best prices in the market. In fact, if you find better pricing on a comparable property, bring it to the attention of McCoy-Freeman Real Estate Group.
"We-ve lived at the beach for the last six years," said Dr. Carrick,"and we-ve bought a lot of properties. Usually we buy them and turn them around. But we bought in Mystic Vistas, and we decided to stay."
Dr. Carrick went on to say that Mystic Vistas is the newest place on the beach—featuring a nice mix of town homes, villas and condos-and that the construction quality is high. Aesthetically, the whole area is pleasing, with beautifully landscaped grounds.
Our beach is rather private," Carrick says, noting that even during the busiest times, it is not crowded. "We can walk to the port or take a trolley to enjoy the restaurants and nightlife. It-s the ideal place to be."
Would you like this content on your website or do you have any questions about this article? If so, contact publisher@mediaservices1.com.