Brevard County Condos For Sale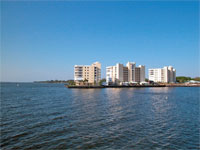 CONDOMINIUM DWELLERS ALONG FLORIDA'S SPACE COAST can look out their windows or sit on their balconies and drink in magnificent views of the Atlantic Ocean, scenic rivers or peaceful inlets. On occasion, they can also enjoy a close-up look at a space shuttle roaring skyward.
The condo market in Brevard County, which claims much of the 75 miles of beautiful beaches surrounding Cape Canaveral and the Kennedy Space Center, is soaring as well.
One example of the juxtaposition of the serenity of the ocean and the exhilaration of a space launch is the condominium community of 3800, located in the island
town of Cocoa Beach, just south of the Space Center. The community is situated just off State Highway A1A, facing the Atlantic, where residents might see a cruise ship docking one day and a shuttle racing toward the space station the next.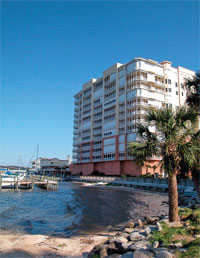 Still in the development and construction stage, 3800 is one of the area's last available condominium developments on the beach. It includes a four-story building with two units per floor and a three-story town house residence and will offer a variety of contemporary and practical design touches. For example, all glass and doors are impact resistant, which is important during the hurricane season. Homeowners will appreciate the private parking and storage facilities and the condo building will feature a canopied lobby and a heated pool and spa. Professional landscaping and a gated entrance are proof that exterior beauty and security won't be neglected, either.
The condominium units have been developed with the quality of the homeowner's lifestyle in mind. Each will offer a roomy 2,400 square feet of heated space and an additional 700 square feet of outside living space-one area off the guest bedroom and a wraparound balcony that can be accessed from both the main living area and the master suite. Homes will feature three bedrooms and either three-and- a-half or two-and-a-half baths and a laundry area. An elevator will provide private access to each unit.
Each unit will boast luxurious amenities, such as Travertine flooring, granite counter tops, built-in appliances and an oversized shower and separate tub in the master bathroom.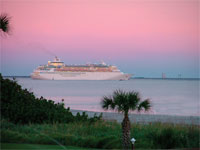 Another community under development, Puerto Del Rio, is being handled by Century 21 Camelot Realty relocation director Gloria Farinella and her son, owner Nick Farinella. Once completed, it will consist of 26 buildings, with 16 units in each building. Located along the beautiful Banana River, it is only about two minutes from Port Canaveral, five minutes from the beach and 40 minutes from Orlando.
The buildings will be five stories tall, with four condominiums on each floor. The first floor will be dedicated to secure parking. Each condo will be a corner unit, with a large wraparound porch designed to provide views of the Banana River or a nearby lake. There are two convenient elevators in each building, as well as
an exercise room, a meeting room, two clubhouses and pools.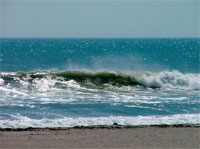 Riverside condos will be approximately 2,400 square feet, while lakeside units will run between 1,800 square feet and 1,900 square feet. Most condos will have three bedrooms and two baths and will include all the modern amenities, such as granite counter tops, hardwood floors and a laundry room. An appliance upgrade package will be available for interested buyers.
Brevard County real estate agent Toni Pastermack is currently listing a penthouse in Merritt Island's Island Pointe. The brand new, eight-floor penthouse has panoramic views of the Indian River and Florida's gorgeous sunsets, and the gated community of Island Pointe has an array of amenities, including a recreation center with an exercise room and sauna, a heated pool with a spa, and tennis and basketball courts. It's centrally located as well, just up the coast from melbourne and Palm Bay, a short drive from Cocoa Beach and around 45 minutes from Orlando.
At Island Pointe, condominium units will range from 2,000 to 2,500 square feet, feature three bedrooms, two baths and an open floor plan. All the modern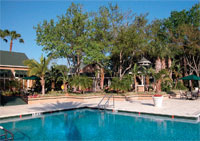 amenities will be available, and every building will have elevator access to private garages
The penthouse is the ultimate expression of the Island Pointe lifestyle. Its 3,200 heated square feet of space, supplemented by 700 square feet of wraparound balcony, contains four large bedrooms and three-and-a-half baths. The master bedroom is 13 feet by 19 feet and the master bath has a garden tub. In Toni's words, "The kitchen is to die for," with liberal use of granite and tile, double the usual amount of cabinet space, custom designed stainless steel appliances surrounding a practical island and even a wine cooler. For security, the owners of the penthouse will have a private garage and a remote camera for viewing the lobby.
Would you like this content on your website or do you have any questions about this article? If so, contact publisher@mediaservices1.com.